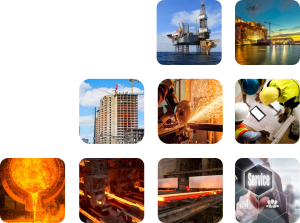 From humble beginnings, our founders and team have great passion for the steel industry.
Steelaris started as a small company serving offshore, construction and marine customers. Over the years we have grown to be a global service provider to the steel market. Together with our group company AYS (listed on the Malaysia Stock Exchange), we have full range of steel in Singapore and Malaysia.
We believe in building a strong brand value to differentiate ourselves from our competitors. Our relationship and service to our customers is based on trust and mutual win-win solutions. Steelaris supports each customer to enable them to be a major player in the fabrication field.
We are passionate steel people.
We aim to be a respectable company who value relationships with everyone we deal with.
We deliver results to the best of our ability in everything we do.
We will stay hungry, adapt to changes and always follow our values as we provide exceptional services to our customer and partners.
People. Knowledge. Network.
Our People are our greatest asset. Honesty, hard work and treasuring relationships are our core values.
We are learning continuously, ensuring we have the right Knowledge to help our customers.
With our global Network of partners, we can provide feasible steel solutions anywhere, anytime.
Our People shall always be fair, hard working and loyal. We act with urgency, pay attention to details and execute decisively in a changing environment. We treasure each relationship and will show empathy in all our interactions. We do not give up easily and are determined to support each other through rain and shine. We take pride in what we do, balancing our work, life and play in every choice we make.
We will learn continuously, remember our mistakes and improve. We pursue Knowledge diligently in order to be better individuals for ourselves, our families and everyone around us. We listen and act with logic and common sense, with the ability to determine right from wrong and having strong integrity.
We build solid friendships and aim to expand our Network of customers, partners, internal and external stakeholders. We think carefully before we act and remain humble in our dealings. Our goal is to have lasting friendships above all, while being kind to each other. We must generate profits for all stakeholders in our Network, going through ups and downs, enjoying any success; together.